Buy Dutch Oven Cookbook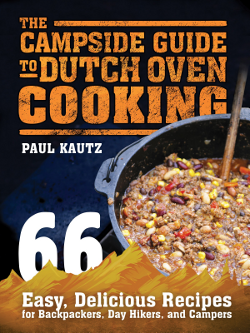 You can purchase my Dutch Oven Cookbook pretty much any place, but if you buy it directly from me, you get:
Signed by the author
Lower price
Free shipping in the USA
The book will be mailed to the USA address you give to PayPal.com
Purchase now for $12.50US, includes shipping in USA only.

May 17: The first printing sold out.
June 10: I just received another batch of books, so go ahead and order as many as you want!
July 21: Just got the Third batch of books, and this time before I ran out. Whew! Thanks to everyone that found and ordered this literary masterpiece. :-)
---
Comments:
Mar 15, 2016 - Michael Barnes
Hello. I was wondering if you still sell this dutch over cook book? I'm sure it's a great book. Have tried a couple of your recipes and they have turned out good. I'm fairly new to the dutch oven world but am getting more into it as we camp.
---
Mar 16, 2016 - Dutch Oven Dude
@Michael - My cook book was just published less than a year ago. I do have copies for sale that I will sign and send to you, or anyone else that orders one (or two or ...)
---
Mar 20, 2016 - Karen Liolios
Please make it digital.

Thanks,
---
Mar 20, 2016 - Dutch Oven Dude
@Karen - You can get a kindle version of it at
amazon
, but it won't be signed by the author. :-)
---
Mar 24, 2016 - Abby Diamond
I want to take your book with me on an airplane - but I have weight and space restrictions. How large / heavy is it? We're going camping in Africa with fully equipped camper vans provided by the outfitter. They list a "flat bottom pot" and shows a picture of what looks like a dutch oven. It would be so handy to have your book with us! Otherwise, I have to print a few recipes and wing it.
---
Mar 28, 2016 - Dutch Oven Dude
@Abby - It weighs 15 oz. It is 9x6 inches.
---
Mar 31, 2016 - Michael Barnes
I received my cook book from you with it signed. Just want to say Thank you very much. Looks as though there are some great D O recipes. Can't wait to go camping this summer and start rocking and Rolling! Thanks again!
---
Apr 04, 2016 - Loretta
Hi, I am considering purchasing your book for my son's scout troop. I need to know two things:
1. Do you have yields for each recipes (e.g., yields xx amount or serves x amount of people)?
2. Do you specify how much charcoal to use for each recipe?

Thank you!
---
Apr 05, 2016 - Dutch Oven Dude
@Loretta -
1. Servings are listed.
2. Temperatures are listed, and there is a section in the book on ways to determine temperature. If you use briquettes, various brands perform differently so listing something like "12 briquettes on top and 7 underneath" would not be helpful - it varies by brand, wind, air temperature, and humidity. Keeping approximately the correct amount of heat on top and under the dutch oven is all that is needed.
---
Apr 07, 2016 - Malori
I'm getting ready to live in an army tent of grid in the woods. Your cookbook seems like it would come in handy. Do you have one just for baking? Have you ever thought of making a gluten free one? Just curious. Can't wait to get your book when I get some income:)
---
Jul 17, 2016 - Claus Pommer
Hi Frank
Would it be possible to buy a pdf-version of your book as I live in Denmark.
Kind regards,
Claus
---
Jul 17, 2016 - Dutch Oven Dude
@Claus - I'm sorry shipping is soooo expensive to Europe. :- (
The eBook is available on Amazon at
this page
, but I don't have a PDF version of the book to sell.
---
Jul 18, 2016 - Melissa
I am thinking of ordering your book. We got our first dutch oven, NOT pre-seasoned. Been reading up on the proper way to season it and get it ready for our fall camping trip. Does your book have the cast iron seasoning, cleaning, & restoring info in it? Like what is on the website here? I hope it does; I would like to have all that info as a reference just in case while we are out and about. Thanks!! Love the website!
---
Jul 19, 2016 - Dutch Oven Dude
@Melissa - Yes, there is a section at the beginning of the cookbook about cleaning your dutch oven. It does not go in depth like the seasoning and restoring pages of this website because that information is not often needed.
---
Sep 01, 2016 - Trish
Paul, just grabbed the kindle edition for a trip to Kahio this weekend. Looking forward to trying some of your recipes! My challenge has always been getting the temp right!
Scout on, Dutchovendude!

---
Nov 19, 2016 - Chris
Are your cookbooks still available? I've used many of your recipes. Very good.
---
Nov 19, 2016 - Dutch Oven Dude
@Chris - Yes, you can purchase them anywhere, or right here if you want a signed copy.
---
Nov 27, 2016 - Dutch Oven Dude
Dutch Oven Christmas Gift - a new cookbook for that DO dude in your family or friends?
---
Dec 27, 2016 - Raymond McCormack
I am a USCG licensed captain, and have wowed quite of my crews and friends when I whip it my old 10" cast iron dutch oven. Have you heard of many seafood dishes being done in dutch's?
---
---
---


Find more Dutch Oven Resources at DutchOvenDude.com