Dutch Oven Cooking
So, you got talked into cooking with a dutch oven, eh? Well, it's about time!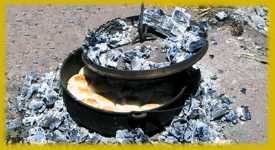 Dutch oven cooking is one of the most splendid activities on a camping trip. Transforming raw materials into an aromatic, mouth-watering meal or dessert is as much art as science. Just the looks of anticipation on everyone's faces when you lift the lid on your cast-iron dutch oven and let some of the smells escape is worth the extra work of packing this heavy piece of gear.
On these pages, I've jotted down all the advice I can think of to help you choose a good dutch oven, get it ready, keep it in good shape, and use it to create magnificent meals. My dutch oven recipes give you a selection of dishes to prepare for breakfast, dinner, or dessert so find one that sounds good and give it a try when you want to go for something new.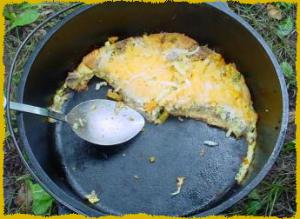 Most of the dutch oven cooking I do is on camping trips. But, using a dutch oven at home is also very popular since the food gets cooked at a constant, all-around temperature. There's nothing better than a wonderful dutch oven meal served for friends at home.
If you are just starting with dutch ovens, you should read through this site like a book. Or, use the navigation on the left to hop to any page that interests you.
---
Comments:
Oct 03, 2015 - Micheal McLaughlin
The recipes from the Dutch Oven Dude are some of the best my family have tried and we will continue using them through all our camping adventures..😋
---
Oct 05, 2015 - Elizabeth Hodson
Thank you so much for your page, it has been extremely useful. I fell in love with Dutch Oven cooking over scouting trips and now with my youngest's Pack I'm trying to veer them away from foil packets and hot dogs (how boring). We will be using a few of your recipes this month on our Pack's trip to Sand Dunes NP. You've also inspired me not to be intimidated by rusty cast iron. I found a 12" skillet at Goodwill for a few bucks and I'm using this afternoon to restore it. I just wanted to drop a line and say how much I enjoy your site and thank you! P.S. Have you seen the new Webelos requirement Cast Iron Chef? it's a great intro to getting them away from the usual boring Cub Grub.
---
Oct 05, 2015 - Dutch Oven Dude
@Elizabeth - Super! I'm glad you're helping the scouts expand their culinary horizons.
Yes, I like the new Cub Scout cooking emphasis, and the additional camping expectations. I hope they don't cause too much concern for Packs that have not done much in the past.
If you get any good pictures of the meals you make, send an email and I can add them to the recipe pages.
---
---
Ask a Question
---


Find more Dutch Oven Resources at DutchOvenDude.com