Choosing a Dutch Oven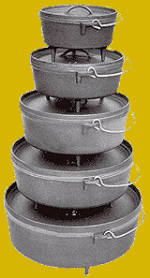 If you are just starting out and want a dutch oven, buy a 12 inch Lodge cast iron dutch oven and you will have a high quality, versatile, camping tool that will serve you well - end of story, go start cooking. Don't compare prices, don't try to find the best deal, just trust me and thousands of other dutch oven cooks that know Lodge is a good investment.
Or, check out some other options if you want...
Griswold dutch ovens were manufactured until the late 1950s when the company went out of business. Collectors still value Griswold dutch ovens. There are other companies that no longer make dutch ovens, including MACA, Wagner, and Vollrath.
Le Creuset dutch ovens are fancy, enameled pots for use in your kitchen oven. They don't have legs for use outdoors.
Dutch ovens come in different styles, metals, sizes, and qualities. Take the following list with you to the store or refer to it when you buy online to make sure you purchase a good, usable item. It's easy to buy the wrong thing so take a few minutes to understand the features and costs of various dutch ovens.
Legs

- your oven must have three legs to keep it off the coals. This lets you set the oven on the ground and slide hot coals under it as needed. Don't accidentally purchase a bean pot kettle thinking it is a dutch oven - you need to have legs.
Make sure the legs are thick where they connect to the oven. Skinny legs may poke through the bottom of the oven if it gets too hot and more ovens are stacked on top. Also, don't get legs that are just short 1/2 inch nubs. The legs should be at least over an inch high.

Bail

- a wire loop attached on opposite sides of the dutch oven. It should be heavy gage wire, not thin, easily bent wire that might melt. The spots where the bail is attached should be molded parts of the kettle, not riveted in place. The rivets can rust out, melt out, or break off. The bail should be easily raised and lowered, not catching on the lid. It should also stand on its own at about a 45 degree angle so it is up and away from the heat and easy to grab with a lifting tool.

Lid

- the lid is an extremely important part of dutch oven cooking. Keep these features in mind:

Rimmed - rim keeps coals and ash on the lid and prevents them from falling in the food when it is removed.
Handle - there should be a handle molded into the center of the lid. It must have a hollow space between the handle and lid so you can slide a lid lifter under it to lift. A handle riveted on or a solid handle with no space will not work well.
Tight-fitting - check that the lid fits snugly on the kettle with no gaps all the way around. This is required to keep steam inside and prevent food from drying out and burning.
Curved - the inside of the lid should be concave so that it can be placed upside down on coals and used as a fry pan or gravy maker.

Kettle

- check that the sides of the kettle are an even thickness all around. Also check the quality of the cast. A cheaper cast may have pits and have more excess metal at the mold seams. A rough surface on the cast is actually ok since it may hold the 'seasoning' better than a very smooth surface when you start to use it.

Type of Metal

- The debate between cast iron and aluminum is still going strong and probably will be for years and years. Please read the next page if you are wondering the Pros and Cons of each type of dutch oven.

Manufacturer

- Lodge is a well-respected American company that makes solid dutch ovens. They have the required features and are good quality casting.
You can find less expensive imports, but the quality of those products has historically been poor. Considering a dutch oven is something you will pass down to your grandchildren some day, spending a few dollars more for high quality is a good investment.

Size

- dutch ovens range from 8 inches up to 24 inches in diameter. The most common size is 12 inches and is great for groups of 6 to 10, depending on the meal. Here is a chart for Lodge dutch ovens and their ideal uses:

LODGE Dutch Ovens

Size
Capacity
(quarts)
Depth
Weight
(pounds)
Dishes
8"
2
3"
11
Side dishes, vegetables, desserts, and sauces for 2 or 3 people
10"
4
3.5"
15
Side dishes, vegetables, beans, small roasts, desserts, and sauces
12"
6
3.75"
20
Roasts, poultry, fish, stews, potatoes, beans, rolls, breads, and desserts
12" D
8
5"
23
Standing rib roasts, hams, whole chickens, stews, potatoes, beans, rolls, and breads
14"
8
3.75"
26
Larger roasts, chicken, stews, potatoes, rolls, breads, and desserts
14" D
10
4.5"
28
Standing rib roasts, hams, chickens, stews, potatoes, rolls, and breads
16"
12
3.75"
32
Large quantities of meat, stews, potatoes, rolls, breads, and desserts


Find more Dutch Oven Resources at DutchOvenDude.com