Cast Iron or Aluminum?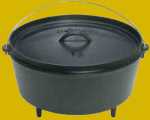 Dutch ovens are traditionally made of cast iron, but in recent years, aluminum dutch ovens have become common.
Both aluminum and cast iron dutch ovens have benefits and limitations as outlined below. Old school dutch oven chefs tend to be cast iron die-hards, with only a few converts to the newer, lighter aluminum alternative.
People looking to save weight, time, and effort go with aluminum.
My experience is that both cast iron dutch ovens and aluminum dutch ovens work just great. I use the tools I have to accomplish a task and I've not had troubles with either metal.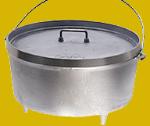 It is much more important to make sure you have a well-made, quality oven rather than worry about it being iron or aluminum. I do feel that a cast iron model just looks more like what a dutch oven should look. But, aluminum is an awful lot lighter.

Activity
Cast Iron
Aluminum
Packing
Very heavy
Weighs 1/3 as much as iron.
10 pounds rather than 30
Heating
Heats slowly and evenly.
Retains heat
Since it has less mass, it heats faster, but may have hot spots and loses heat faster
Cooking
Slow, even heat
May have uneven cooking, especially in windy conditions
Melting
Melts at 2000 degrees.
Won't melt on a fire
Melts at 1200 degrees.
Chance of melting on a very hot fire
Seasoning
Must season and keep seasoned to prevent rust
Season if you want, but not necessary
Cleaning
Only use water after scraping clean. Soap will cause rust and foul flavor the oven.
It doesn't rust so you can wash it with soap and water.
The differences in cooking quality and ease of use between cast iron and aluminum are actually very slim. Cast iron heats more slowly, cooks a bit more evenly, and retains heat longer, but it requires more care in cleaning and seasoning. As long as you use your dutch oven responsibly and care for it, either iron or aluminum will serve you well - just make sure to buy a high quality item rather than the cheapest import on sale.
Do you have a preference between iron and aluminum dutch ovens? Share Your Views


Find more Dutch Oven Resources at DutchOvenDude.com