Chocolate Upside Down Cake Dutch Oven Recipe
Ingredients:
3 Tbsp butter (or margarine) or oil
1 cup flour
3/4 cup sugar
2 tsp baking powder
1/4 tsp salt
5 tsp dry cocoa powder
1/2 cup milk
1 tsp vanilla
1 cup chopped pecans or walnuts
1 cup water
1/2 cup sugar
1/2 cup brown sugar
1/4 cup dry cocoa powder
Instructions:
Warm dutch oven over coals.
Melt 3 Tbsp butter in dutch oven and swirl around to cover sides.
In zip-loc, mix the flour, sugar, baking powder, salt, and cocoa. (Could do this beforehand)
Add milk and vanilla to zip-loc. Pour in melted butter from dutch oven. (Just take what pours out, leaving the oven well-coated.)
Add nuts and kjnead well to make a batter.
Pour batter into dutch oven, squeezing it all out of the zip-loc.
Mix sugar, brown sugar, cocoa, and water in the zip-loc.
Pour over batter.
Bake
at 350 degrees for 40 minutes.
When done, remove from heat and remove lid for about 5-10 minutes to cool.
When serving, flip the piece upside down so chocolate sauce is on top.
Serves 6 to 8.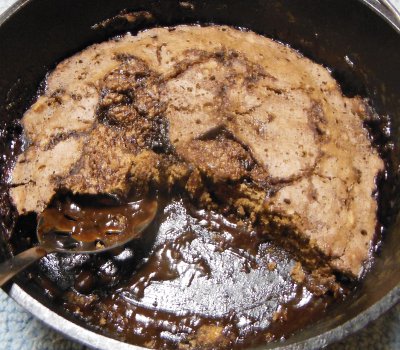 ---
All recipes use a 12-inch dutch oven, unless specified. If you have a 10-inch dutch oven, use about 2/3 to 3/4 of the ingredient amounts but keep the temperature and time about the same.
If no temperature is listed, use 350 degrees.
See
Heat Settings
page for temperature and coal placement
for
Frying, Stewing, Roasting, Baking, and Simmering
.
Let me know how you enjoyed your Chocolate Upside Down Cake!
Send a photo of your meal to
so I can add it here.
Get 66 favorite recipes in my new dutch oven cookbook.

Click one to vote:
Did you like it?


Or hate it?

Next Recipe
Main Recipes Page


Find more Dutch Oven Resources at DutchOvenDude.com