Frito Casserole Dutch Oven Recipe
Ingredients:
1 small onion
2 lb hamburger
3 ounces dry taco seasoning (2 packages)
1 cup water
1 8-ounce bag Fritos
1 15-ounce can corn
1 15-ounce can black beans
1 10-ounce can diced tomatoes and chilies
1 4-ounce can sliced black olives
12 ounces cheddar or Mexican mix cheese
Instructions:
Chop onion.
Heat dutch oven over coals to about 375 degrees for
Frying
.
Brown hamburger and onion.
Drain any excess grease, leaving hamburger in dutch oven.
Reduce heat to about 225 degrees.
Drain cans of corn, beans, tomatoes, and olives into a 1 cup measuring cup. Pour this liquid into the dutch oven. If there is more than 1 cup of liquid, discard the excess. If there is less than 1 cup, top it off with water. If you prefer, just drain the vegetables and discard the liquid, and pour 1 cup of water into the dutch oven instead.
Stir in taco seasoning mix.
Simmer
at about 225 degrees for 5 to 10 minutes.
Pour hamburger mixture from dutch oven into a bowl.
Spread 1/3 of the Fritos in bottom of dutch oven.
Spread 1/2 of the meat mixture over the Fritos.
Spread 1/2 of the corn, beans, and tomatoes over the meat.
Spread another layer of Fritos, then meat, then corn, beans, and tomatoes.
Spread last 1/3 of the Fritos on top.
Spread olives over the Fritos.
Grate cheese.
Sprinkle grated cheese over the top.
Bake
at about 350 degrees for about 30 minutes. Check at 20 minutes to see if cheese is fully melted.
Serves 8.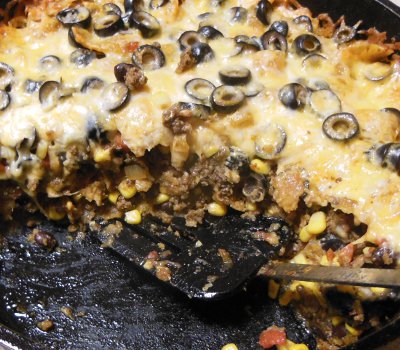 ---
All recipes use a 12-inch dutch oven, unless specified. If you have a 10-inch dutch oven, use about 2/3 to 3/4 of the ingredient amounts but keep the temperature and time about the same.
If no temperature is listed, use 350 degrees.
See
Heat Settings
page for temperature and coal placement
for
Frying, Stewing, Roasting, Baking, and Simmering
.
Let me know how you enjoyed your Frito Casserole!
Send a photo of your meal to
so I can add it here.
Get 66 favorite recipes in my new dutch oven cookbook.

Click one to vote:
Did you like it?


Or hate it?

Next Recipe
Main Recipes Page
---
Comments:
Oct 22, 2017 - Nick Drake
WE HAVE ANOTHER WINNER HERE! This was my 2nd item cooked in my DO and it went very well. The meal got thumbs up all around. Thanks!
---
Oct 22, 2017 - Dutch Oven Dude
@Nick - This is my wife's favorite DO meal.
---
---
---


Find more Dutch Oven Resources at DutchOvenDude.com