Bacon Chicken Nuggets Dutch Oven Recipe
Ingredients:
4 skinless, boneless chicken breasts
1 pound bacon slices (16 slices)
32 toothpicks
1 cup teriyaki marinade
Instructions:
Cut bacon strips in half, so there are 32 slices about 6 inches long.
Cut each chicken breast in half lengthwise, then each half into quarters, to create 8 chunks.
Tightly wrap one of the short bacon strips around a chicken chunk and toothpick it in place.
Repeat for all the chicken chunks and lay them in dutch oven.
Heat dutch oven to about 375 degrees on coals for
Frying
.
Fry for about 15 minutes, flipping the chicken chunks over every few minutes.
Pour teriyaki or bbq sauce over chicken, and stir.
Cover with dutch oven lid, move some heat to the lid, and heat to about 350 degrees for
Baking
.
Bake for about 20 minutes.
Serves 6.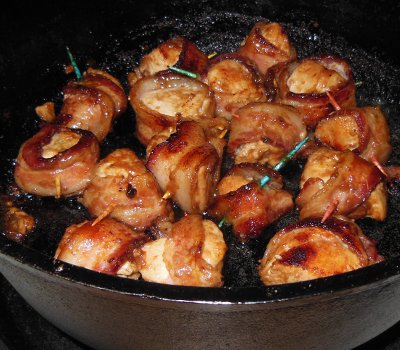 ---
All recipes use a 12-inch dutch oven, unless specified. If you have a 10-inch dutch oven, use about 2/3 to 3/4 of the ingredient amounts but keep the temperature and time about the same.
If no temperature is listed, use 350 degrees.
See
Heat Settings
page for temperature and coal placement
for
Frying, Stewing, Roasting, Baking, and Simmering
.
Let me know how you enjoyed your Bacon Chicken Nuggets!
Send a photo of your meal to
so I can add it here.
Get 66 favorite recipes in my new dutch oven cookbook.

Click one to vote:
Did you like it?


Or hate it?

Next Recipe
Main Recipes Page


Find more Dutch Oven Resources at DutchOvenDude.com