Creamy Chicken Rice Dutch Oven Recipe
Ingredients:
4 boneless chicken breasts
1 can cream of mushroom soup
1 can cream of celery soup
1 can cream of chicken soup
1.5 Cups white rice
3 Cups water
1 package dry onion soup mix
Instructions:
Cut each chicken breast in half lengthwise.
Mix three cans of soup, rice, and water in dutch oven.
Arrange chicken pieces on top of rice.
Sprinkle onion soup mix on top.
Bake
for 75 minutes at about 350 degrees.
Check every 20 minutes - add more water if it seems to need it.
Serves 8.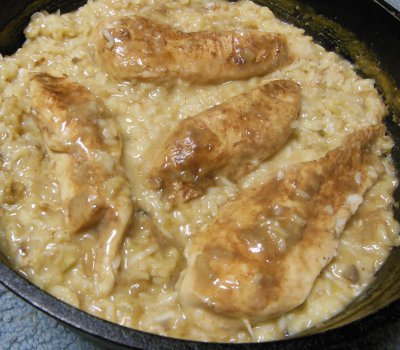 ---
All recipes use a 12-inch dutch oven, unless specified. If you have a 10-inch dutch oven, use about 2/3 to 3/4 of the ingredient amounts but keep the temperature and time about the same.
If no temperature is listed, use 350 degrees.
See
Heat Settings
page for temperature and coal placement
for
Frying, Stewing, Roasting, Baking, and Simmering
.
Let me know how you enjoyed your Creamy Chicken Rice!
Send a photo of your meal to
so I can add it here.
Get 66 favorite recipes in my new dutch oven cookbook.

Click one to vote:
Did you like it?


Or hate it?

Next Recipe
Main Recipes Page
---
Comments:
Mar 25, 2017 - Neal Hand
I have never used a dutch oven in the oven before trying this. Your directions don't specify whether to bake with lid on or off. I'm winging it and going with the lid on, assuming that I can always finish it with lid off if it looks like it needs it. I'm fairly helpless in the kitchen. lol
---
May 18, 2017 - Troy
Great recipe. I do a couple of minor changes.

1. I brown the chicken in the Dutch oven first so the skin is crispy.

2. I substitute chicken broth for some of the water.

Neal Hand, if you do it this way, you can leave the lid on.
---
May 22, 2017 - Dutch Oven Dude
@Neal - The lid should always be on the dutch oven unless a recipe says otherwise.
I like Troy's idea to brown the chicken first.
---
---
---


Find more Dutch Oven Resources at DutchOvenDude.com