Fizzy Fruit Cobbler Dutch Oven Recipe
Ingredients:
1 can fruit pie filling
1 box cake mix
1 can soda
1 Tbsp. topping
Instructions:
Any combination of flavors that sound good to you can be tried. This example is apple, yellow cake, lemon-lime, and cinnamon. Another might be cherry filling, chocolate cake, cola, and powdered sugar. Or, blueberry filling, white cake, grape soda, and cookie sprinkles.
Spread the fruit filling across the bottom of the dutch oven.
Sprinkle the cake mix on top of the filling - do not stir it.
Pour a little more than 1/2 of the soda on top of the mix from a low height so it does not splatter all over.
With a fork, mix the soda into the cake mix, being careful not to mix it into the filling too much - a little is ok.
When the cake mix is stirred, sprinkle topping on top.
Bake
at 350 degrees for 40 minutes.
Serves 8.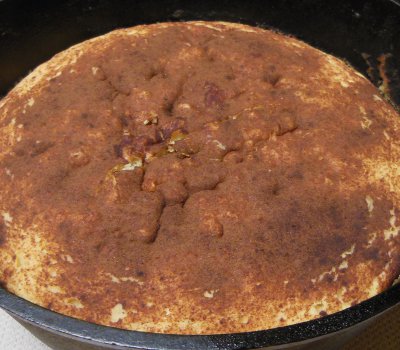 ---
All recipes use a 12-inch dutch oven, unless specified. If you have a 10-inch dutch oven, use about 2/3 to 3/4 of the ingredient amounts but keep the temperature and time about the same.
If no temperature is listed, use 350 degrees.
See
Heat Settings
page for temperature and coal placement
for
Frying, Stewing, Roasting, Baking, and Simmering
.
Let me know how you enjoyed your Fizzy Fruit Cobbler!
Send a photo of your meal to
so I can add it here.
Get 66 favorite recipes in my new dutch oven cookbook.

Click one to vote:
Did you like it?


Or hate it?

Next Recipe
Main Recipes Page


Find more Dutch Oven Resources at DutchOvenDude.com