Shepherd Pie Dutch Oven Recipe
Ingredients:
2 lb hamburger
1 green pepper
1 onion
2 celery stalks
1 can diced tomatoes
1 small bag frozen vegetables
3 cups prepared mashed potatos
8 oz. cheddar cheese
salt & pepper
Instructions:
Heat dutch oven to 375 degrees for
Frying
.
Brown hamburger.
Dice the green pepper, onion, and celery.
Add green pepper, onion, and celery to dutch oven.
Stir about 5 minutes, until vegetables are soft.
Stir tomatoes and mixed vegetables into hamburger.
Prepare the mashed potato flakes to make 3 cups.
Spread mashed potatoes over top of hamburger/vegetable mix, cover it completely like a shell.
Put lid on dutch oven, rearrange heat, and
Bake
at about 350 degrees for 30 minutes.
Shred the cheese.
Sprinkle cheese on potatoes and bake another 10 minutes or until cheese is melted and golden.
Serves 6 to 8.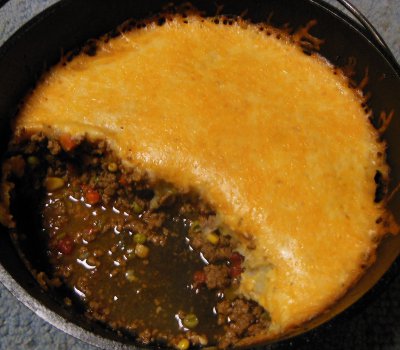 ---
All recipes use a 12-inch dutch oven, unless specified. If you have a 10-inch dutch oven, use about 2/3 to 3/4 of the ingredient amounts but keep the temperature and time about the same.
If no temperature is listed, use 350 degrees.
See
Heat Settings
page for temperature and coal placement
for
Frying, Stewing, Roasting, Baking, and Simmering
.
Let me know how you enjoyed your Shepherd Pie!
Send a photo of your meal so I can add it here.
Get 66 favorite recipes in my new dutch oven cookbook.

Click one to vote:
Did you like it?


Or hate it?

Next Recipe
Main Recipes Page
---
Comments:
Feb 26, 2016 - Kent Sugden
Excellent recipe! I played around with the spices a bit and used thyme, sage, rosemary and some cayenne. And plenty of garlic in the potatoes. In place of the frozen vegetables, I used some home grown broccoli, tomatoes, asparagus and onions. The results were spectacular!
---
---
---


Find more Dutch Oven Resources at DutchOvenDude.com