Split Pea Soup Dutch Oven Recipe
Ingredients:
2 quarts water
1 lb dry split peas
1 small onion
3 carrots
3 potatoes
1 celery stalk
3/4 lb ham
1 tsp garlic powder (or 1 Tbsp minced garlic)
1/2 tsp cayenne pepper
1/2 tsp salt
1/4 tsp black pepper
Instructions:
Pour water into dutch oven.
Heat dutch oven over coals to about 300 degrees for
Frying
.
Add split peas.
Peel and dice onion, carrots, and potatoes.
Chop celery.
Dice ham.
Stir all ingredients into dutch oven.
Bring to a boil, stirring occasionally.
Reduce heat to about 225 degrees and cover with lid to
Simmer
for 2 hours.
Check and stir every 15 minutes to prevent burning on the bottom, especially as the soup thickens.
Add more water if the soup seems too thick.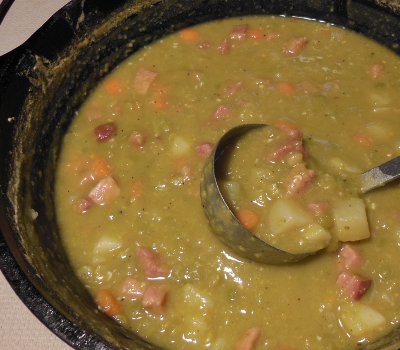 ---
All recipes use a 12-inch dutch oven, unless specified. If you have a 10-inch dutch oven, use about 2/3 to 3/4 of the ingredient amounts but keep the temperature and time about the same.
If no temperature is listed, use 350 degrees.
See
Heat Settings
page for temperature and coal placement
for
Frying, Stewing, Roasting, Baking, and Simmering
.
Let me know how you enjoyed your Split Pea Soup!
Send a photo of your meal to
so I can add it here.
Get 66 favorite recipes in my new dutch oven cookbook.

Click one to vote:
Did you like it?


Or hate it?

Next Recipe
Main Recipes Page


Find more Dutch Oven Resources at DutchOvenDude.com