Wake Em Up Dutch Oven Recipe
Ingredients:
3/4 pound ham
3 large jalapeno peppers
6 11-inch flour tortillas
4 cups (1 pound) shredded cheese, colby-jack or mexican blend
10 large eggs
3/4 cup milk
1/4 tsp cumin
1/4 tsp pepper
1/4 tsp salt
1/4 tsp onion powder
1/4 tsp garlic powder
Instructions:
Cut ham into 1/4 inch to 1/2 inch cubes.
Remove seeds from jalapenos and slice thinly.
Scatter one jalapeno across bottom of dutch oven.
Tear 2 tortillas into 1 inch pieces and scatter over jalapeno slices.
Scatter 1 cup of cheese over tortilla pieces.
Scatter 1/4 pound of ham over cheese.
Create a second layer of chilies, tortillas, cheese, and ham.
Create a third layer.
In a bowl, blend the eggs, milk, and all spices.
Pour egg mixture into dutch oven.
Put lid on dutch oven and let it sit for 20 to 30 minutes in a cool place.
Heat dutch oven to about 350 degrees for
Baking
and cook for about 45 minutes.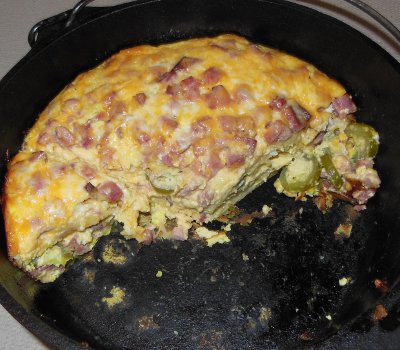 ---
All recipes use a 12-inch dutch oven, unless specified. If you have a 10-inch dutch oven, use about 2/3 to 3/4 of the ingredient amounts but keep the temperature and time about the same.
If no temperature is listed, use 350 degrees.
See
Heat Settings
page for temperature and coal placement
for
Frying, Stewing, Roasting, Baking, and Simmering
.
Let me know how you enjoyed your Wake Em Up !
Send a photo of your meal to
so I can add it here.
Get 66 favorite recipes in my new dutch oven cookbook.

Click one to vote:
Did you like it?


Or hate it?

Next Recipe
Main Recipes Page


Find more Dutch Oven Resources at DutchOvenDude.com