Pocket Pizza Dutch Oven Recipe
A Favorite
Required:
dutch oven or aluminum foil
campfire coals
long fire tongs
Ingredients:
6 pita breads
1 14oz. can pizza sauce
12 oz. grated cheese
1 7oz. pkg sliced pepperoni
optional: sliced black olives, mushrooms, pineapple chunks, diced peppers, ...
Instructions:
Cut each pita bread in half to form two pockets and spoon pizza sauce into pocket spreading it evenly.
Add 4 or 5 slices of pepperoni, 1 ounce of cheese, and other toppings. Don't overstuff it or it will tear.
Repeat to make a dozen pockets.
Stand the pockets up in the dutch oven.
Put lid on the dutch oven and
Bake
at 350 degrees for 20 minutes.
You can make these directly in fire coals by wrapping each pocket in foil and placing in coals. Cook for a couple minutes, flip, and cook another two minutes.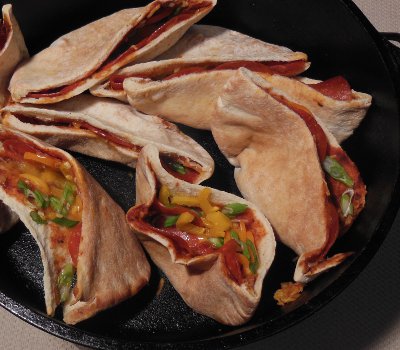 Notes:
Use precooked meat since you are just heating it up.
---
All recipes use a 12-inch dutch oven, unless specified. If you have a 10-inch dutch oven, use about 2/3 to 3/4 of the ingredient amounts but keep the temperature and time about the same.
If no temperature is listed, use 350 degrees.
See
Heat Settings
page for temperature and coal placement
for
Frying, Stewing, Roasting, Baking, and Simmering
.
Let me know how you enjoyed your Pocket Pizza!
Send a photo of your meal to
so I can add it here.
Get 66 favorite recipes in my new dutch oven cookbook.

Click one to vote:
Did you like it?


Or hate it?

Next Recipe
Main Recipes Page


Find more Dutch Oven Resources at DutchOvenDude.com