Great Dutch Oven Recipes
Here it is - my dutch oven cook book with all the dutch oven recipes I could find. Everything from chicken recipes to dessert recipes for you to have a go at on your next camping trip. Dutch ovens let you get away with easy cooking so give these a try. I'd love to hear back from you on your results or if you have questions about any of these dutch oven recipes.
I'm always looking for more to add, so drop me a recipe if you have one to share.
You can purchase my dutch oven cookbook that has 66 of my favorite recipes. It's a great gift, especially for a newbie dutch oven master!
For help with dutch oven temperatures and coal placement, see my Heat Settings page.
---
If you want to cook a hearty chicken dinner or an easy dessert in your dutch oven, these recipes will help you create great food for your friends. My dutch oven cook book is free for you to borrow from. Let me know how your dutch oven recipe turned out. If you have a request for specific recipes, just ask and I'll put one in this dutch oven cook book for you.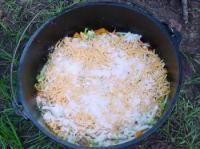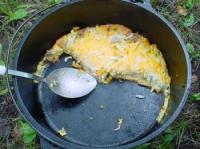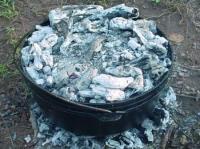 Find more Dutch Oven Resources at DutchOvenDude.com